SERVICE FAST AND EASY, 48 HOUR SERVICE ON MOST ONE COLOR JOBS

          Call (678) 432-6672 for fast, easy quotes on all your sign needs.

Corrugated Plastic

The corrugated plastic used in our signs is 4mm fluted polypropylene sheets.  This material is extremely tough, yet very lightweight.  It is completely water and sunproof, and resists most stains and chemicals.

Yard signs made from this product will last outdoors at least 1 - 3 years in most cases.  Many political campaigns have used these types of signs in their campaigns.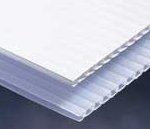 Our corrugated plastic yard signs outlast any of the polycoated cardboard or bag signs.  The flukes in the plastic also allow for easy insertion of the wire stands, which increases the strength of the sign greatly.  In addition, the material used in these plastic signs is recyclable.

Wire Stands

High quality wire stands are available with our yard signs.  They are constructed of 9 gauge galvanized steel with a pair of welded cross bars.  These stands measure 10" wide by 30" high and are packaged for shipment 50 to a box.

These wire stands are very easy to use.  Just slide the wires into the flukes of the sign until the first crossbar meets, then step down on the crossbar to push the sign and stake into the ground.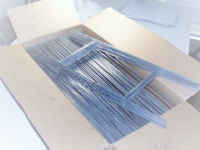 Be cautious of stands from other companies that use no crossbars or only one wire, as these are very difficult to place into the ground and will not support your corrugated signs effectively.

We also offer the U-top wire stands, which measure 12" wide by 33" high.  These are more durable to wind and are usually used for corrugated plastic measuring 24" x 24" or bigger.

UV Ink

Our Corrugated plastic yard signs are printed with UV-cured ink that has been designed specifically for a long outdoor life.  This UV ink has an extremely glossy and highly detailed finish.

This ink is manufactured to endure at least 12 months of continuous outdoor exposure, and to allow for plenty of flexing and bending.  Our ink comes in 22 standard colors and can be Pantone color matched to almost any of the Pantone 1000 colors (exluding neon and metallic colors).  Our UV inks produce strikingly brilliant spot colors and beautiful four-color process yard signs.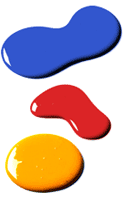 Copyright © 2009 Reliable Signs, Inc. All rights reserved.